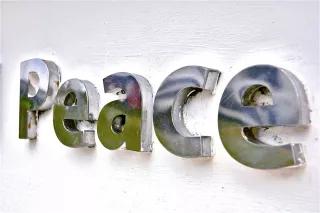 This is an archived article
Leymah Roberta Gbowee and Ellen Johnson-Sirleaf – both from Liberia – and Tawakkul Karman (Yemen), three outstanding women's rights and peace activists, have been awarded this year's Nobel Peace Prize. They have, for years, campaigned in different ways and in different forms against the exploitation of women, oppression, war and violence, and for women's rights and those of other suppressed people, doing so at times under extreme conditions and at high personal risk.
The awarding of this prize will serve to encourage and affirm the numerous other women's rights and peace activists across the globe fighting tirelessly every day and often putting their own lives at risk in their quest for a world free from violence and oppression, for equal rights for women and for peace. The decision taken by the Nobel Prize Committee is also long-overdue recognition of the vitally significant role women worldwide play in peace processes and campaigning for crisis prevention and conflict resolution: a significance which continues to be systematically ignored in mainstream security policy.
Leymah Roberta Gbowee launched, among other things, the highly-successful non-violent protest platform for mothers and women in Liberia which targeted the brutal regime of dictator Charles Taylor. Assuming the role of a modern-day Lysistrata, she caused a stir by calling on women to engage in a "sex strike". Later on, she became an active member of the Truth and Reconciliation Commission of Liberia. She has since been appointed Executive Director of the Women Peace and Security Network Africa (WIPSEN Africa).
Ellen Johnson-Sirleaf has been President of Liberia since 2006 and is the first woman to be elected head of state in Africa. Through her eventful life, her diverse involvements in campaigning for women's rights and democracy and against hardship, hunger and oppression, she represents hope for numerous women well beyond Africa and epitomises the belief that the struggle is worth it, that the possibility of leading a different, better life in peace and equality truly does exist.
Tawakkul Karman has been an active campaigner for human and women's rights for many years and is, among other things, a co-founder of the organisation Women Journalists Without Chains. She is, in particular, responsible for organising opposition to Yemen's ruler, President Ali Abdullah Salih. She has since become recognised as the "leading voice of Yemen's youth movement" (Zeit) and is the first Arab woman recipient of the Nobel Peace Prize, which she intends to dedicate to the "Arab spring".
During the award ceremony, the Nobel Prize Committee made reference to UN Resolution 1325 passed in the year 2000 by the UN Security Council. The Resolution emphasises the rights of women in conflicts and stresses the need for them to be involved. Citing this Resolution, among other things, a group of dedicated women peace activists across the globe launched the "1,000 Women for the Nobel Peace Prize" campaign and nominated 1,000 PeaceWomen from all corners of the world who – day in, day out – lobby for peace and security with great courage but little recognition. The Gunda Werner Institute and the German Women's Security Council are actively involved in the campaign. We see the awarding of the Nobel Peace Prize to three deserving women activists as a sign of hope that the many years of women's engagement is slowly, but surely bearing fruit.
We wish the three prizewinners all the best and lots of courage, energy and perseverance in all their efforts to combat oppression and violence and to promote women's rights and peace.
2011
©Kroth
Executive Director Gunda-Werner-Institute
Phone: +49 - (0)30 - 285 34-122
E-mail: hentschel@boell.de