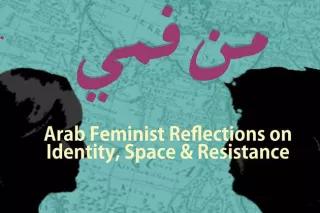 This is an archived article
Editors: Ghadeer Malek and Ghaida Moussa
Title: Min Fami: Arab Feminist Reflections on Identity, Space and Resistance
Pages: 310 Pages
Price: $29.95
ISBN: 978-1-926708-75-1
Published March 25, 2014
Order here: http://inanna.ca
Min Fami: Arab Feminist Reflections on Identity, Space, and Resistance is an anthology that cradles the thoughts of Arab feminists, articulated through personal critical narratives, academic essays, poetry, short stories, and visual art. It is a meeting space where discussions on home(land), exile, feminism, borders, gender and sexual identity, solidarity, language, creative resistance, and (de)colonization are shared, confronted, and subverted. In a world that has increasingly found monolithic and one-dimensional ways of representing Arab womyn, this anthology comes as an alternate space in which we connect on the basis of our shared identities, despite physical, theoretical, and metaphorical distances, to celebrate our multiple voices, honour our ancestry, and build community on our own terms, and in our own voices.
Ghadeer Malek is a Palestinian feminist activist, aspiring writer and spoken word poet. She immigrated to Toronto in 2003 to study at the University of Toronto and graduated with an honours bachelor degree in History and Middle Eastern studies after which she joined the Association of Women's Right in Development (AWID). She currently coordinates the Young Feminist Activism (YFA) Program at AWID and is looking forward to pursuing a Master's degree at OISE/UT in the Fall of 2013. Ghadeer is also co-founder and editor of Aqsazine, an art collective of young progressive and critical Muslim women passionate about combating gender-based violence through art. Ghadeer's poetry has been published in Feminism for real and Shameless Magazine.
Ghaida Moussa is a scholar, educator, and dj, who is passionately drawn to creative articulations of resistance, identity, memory, and space. She holds a bi-disciplinary Master's degree in International Development and Global Studies, and Women's Studies from the University of Ottawa. She is currently undertaking her Ph.D. in Social and Political Thought at York University in Toronto, Canada. The past couple of years, she has been devoted to translating anti-colonial notions onto dance floors, thinking through "home" in the cracks between anchored locations and collective memory, and practicing pedagogy from the heart in the classroom and in alternate spaces of education.