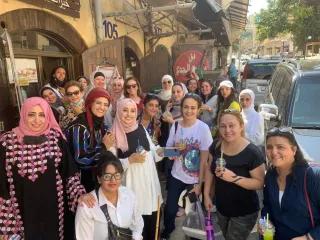 As part of its effort to support local communities and female producers from different governorates, Arab Renaissance for Democracy and Development (ARDD)'s Al Nahda Women's Network organized on August 21, 2021 a visit to the city of Al Salt, which was recently inscribed on UNESCO's heritage list. During the visit, network members met with women pioneers in developmental work and with owners of small projects and heard stories about their resilience. This was carried out as part of the initiative "Activating the Role of Women in Economic Life".
The visit allowed women in different communities to talk about their experiences and success stories, as well as about the challenges they face, thus creating solidarity among women from different governorates. Mona Telfah, a member of the network and an expert in the field of economics, said that women's success in various fields is mainly attributed to their self-confidence and knowledge of their rights and duties. She also expressed her belief in the importance of a network of women from different regions and governorates that would enable them to exchange experiences and help each other, highlighting the role of Al Nahda Network in this endeavor.
Abeer Abu Touq, the Media Director at the Marketing and Communication Department of the Arab Media Center Group and a member of the Network, urged women to follow modern marketing strategies, using  the internet and social media, in order to help their projects gain exposure. She also highlighted the importance of women sharing their success stories to set examples for others, since "positivity is contagious." Participants held a community mobilization session at the Hospitality House, which has become a landmark in the city of Salt. The guest house is visited by tourists and locals who can enjoy traditional dishes, wear "Al-Khalaqa" - a traditional Salti dress - and admire the house's collection of traditional Salti products".
Al-Zoubi, owner of the house and a member of the network, spoke about her project, the success of which helped her provide for her five children that she was left to raise by her own.  She mentioned the stereotypes regarding working women and how her determination and will played a big role in her success. Her project also gave job opportunities to more than 20 women in her community.
The network members also met a group of youth activists and women from Salt, with whom they exchanged experience in community and development work in the city of Al Salt.
Also, during the visit, the network members visited Khairat Al-Salt House Project, owned by Thaera Arabiyat, a community activist whose perseverance helped her achieve success and overcome obstacles, including her lack of adequate education as she got married at a young age. Arabiyat helped other women and young people in her community get find employment. It held training courses for them in partnership with local associations and organizations and set up many activities in the city of Salt with the aim of attracting more tourists to the city. A young woman who participated in the training courses said that "Khairat Al-Salt House may be small, but it accommodates all of us". Considering that 525 women benefited from 48 training courses provided at the House, it is indeed no small feat.
In addition to these activities, the participants visited historical, religious, and cultural sites in the city, including Al Khader (St. George) Church, or the Church of Miracles, where Muslim and Christian visitors offer an example of coexistence among members of the local community. They also walked in the city's old market, which has yet to recover from the closures imposed by the COVID-19 pandemic.
This visit comes as part of the "For Us – By Us" project, implemented by ARDD in cooperation with the Heinrich-Böll Foundation - Palestine and Jordan. Al Nahda Women's Network seeks to advance the role of women, including community leaders and activists, in political life and in democracy building through networking among women in different communities, thus hoping to help women in the Arab world achieve renaissance.