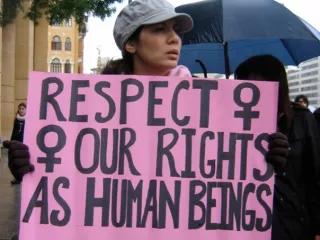 This is an archived article
For feminist and women's rights activist Lina Abou Habib, director of the Collective for Research and Training on Development and Action (CRTD_A), the Beijing Declaration and Platform can be considered a milestone in fighting for women's rights in Lebanon. Noor Baalbaki, program manager at hbs' office in Beirut, interviewed her to take stock of the achievements since 1995.
Twenty years ago, the fourth international women's conference in Beijing raised attention to important issues concerning women's rights. The Beijing Declaration and Platform for Action were established. Did you follow the process back then? And is Beijing still discussed among you and your colleagues and like-minded as a mile-stone in women's rights?
Yes, of course I followed the process; there was a pre-Beijing preparatory process, then Beijing and then the follow up to Beijing. The pre Beijing I followed it in the Arab region and also in other parts of the world and then I attended Beijing and everything I have been doing since then is within the Committee on the Elimination of Discrimination against Women (CEDAW) and Beijing platform of action. These two tools remain at least for many of us a main reference for working on women's rights and a main advocacy tool to hold our governments accountable since they have presumably ratified them. Together with CEDAW, Beijing remains one of the two key instruments for women's rights as human rights, so it is an important reference point. I continue to work on the Beijing platform of action until now.
Were you included in the regular national assessment of progress?
Off and on in Lebanon as part of the work of National Commission for Lebanese Women (NCLW) but also since CRTD_A is the regional secretariat of equality without reservation and is also the Lebanese partner of the women learning partnership, which is an international feminist coalition of like- minded organizations, we have been working on monitoring assessment, follow-up of the implementation of the Beijing platform of action also in denouncing implementation and violations of woman rights.
Which achievements do you see in Women's rights over the last 20 years?
The Beijing platform was a turning point for every organization working on women's rights as human rights. In the case of Lebanon, it is a bit different. In terms of approaches and changes there have been many landmarks. First in terms of approaches, the work of women's rights organizations became recognized and new issues came to the forefront specifically violence against women. Through Beijing, this has become an issue in the whole region and it has led to the law, which was passed last April. That was a main change. The social dialogue about family laws and the problems women face here as well as in religious laws are all based on the Beijing framework. We are in principle committed to have at least one quarter of women in all elected bodies in 2015. We are still at zero-point-something in Lebanon. And also the work we are involved in, which is equal citizenship and nationality rights, if you trace them back, they all come from the push given by the Beijing process. The achievements are that these issues became public and political issues. Before they were not. The social and public discourse on family laws and the fact that citizenship has become a political issue is one of the main achievements. Beijing was a landmark in helping all of us in focusing on certain key issues and framing the struggles around them by shaping the media's interest and mobilizing and bringing this into political debates.
What were the main reasons for positive change in Women's rights in Lebanon?
First, Beijing was a UN conference, but it was the combination of international feminist advocacy and mobilization, which means it was not Limited to in one country or one region.  There was a global push for these issues to become public and political issues. Second, women organizations started to have tools to hold a government accountable. Third, it was and is a period of intense solidarity building and networking across countries. All of these mentioned above, in addition to local sustained advocacy and lobbying combined have created these changes.
CRTD_A, your organization, has been working intensively on the personal status law. Women can still not pass their nationality to children or spouses. Any prospects for progress here?
I think there have been important changes through our work. One is, the issue has become an issue, which it was not before. One of our main contributions is that we put it on the public, political and social dialogue agenda. The other very important change is the fact that women have become advocates. They have overcome the barriers of fear and intimidation, and they have regained their dignity and their force. There also have been many procedural changes in the law such as flexibility in work and residency permits, in addition to access to public schooling and public health care. Of course, none of this is enough, because none of this abides by the concept of equality. Nevertheless, this is an entry point of the recognition of Women's rights to the equal citizenship laws.
Many women in Lebanon don't have the Lebanese nationality, such as Syrian, Palestinian or Iraqi refugees and tens of thousands of migrant workers from Africa and Asia. How big is the difference between women with the Lebanese or non Lebanese nationality when it comes to Women's rights?
Our analytical framework is a feminist one, which means that not all men and women are the same in addition to the differences between men and women. Furthermore, there is an intersectionality of discrimination. Women in Lebanon face discrimination due to the fact that they are women in a country, where they are not recognized as citizens and are not even considered as equals to one another because of the confessional system, which makes them subjects to their communities rather than citizens of the state. The refugee status is another burden as well as the migrant status and poverty or social status. All of these statuses add a burden and an additional component of discrimination (early marriage, rape…). We think about it this way: the bottom line is that they are women and the added discrimination is other factors, which make them even more vulnerable.
Given the image of Lebanon, the daily life on Lebanese streets and beaches, the high number of women in media and arts, it is a kind of a surprise for outside observers that the number of women in politics is so low. Male-only cabinets are not the exception but the standard, the number of women in parliament is only slightly higher than in very conservative Arab states – what do you think are the reasons?
I think the starting point is wrong. The assumption that Lebanon is liberal is only made by those who are just familiar with the privileged Beirut and have not been outside of the 24 square kilometers. I am borrowing this from George Corm who has stated this concept. Aside from this, there are no privileges for women. Women are really present in the public sphere (media, advertisement etc.) and this is a great change. It was not like this when I was young. But there is no way that women can have equality in this country in the absence of personal status law because the current religious status law gives main obstacles to women emancipation. It considers women as objects and annexes.
How much does the missing representation of women in the cabinet affect the situation of Women's rights?
Quite a lot. Beijing has put 30 percent as a quote for women to make a difference and to be a critical mass. Without this 30 percent we are not likely to have proper representation and issues of women's rights on the political agenda. Therefore, political representation is important. Women have the right of representation because it is for everybody. On how they represent, there are many women organizations working on this. Women are slaves to men, imams and priests.
What would you say should be done to address this problem?
Continue with the struggle and the advocacy, don't give up. I keep saying, if you are not convinced then don't do nothing but don't spread negative energy. If we compare now to 10, 20 or 30 years ago we see things have changed because there have been movements. We need to keep these issues on the agenda, for example the nationality campaign. There can be changes in the mind set of people, they became aware of it and have an opinion about it. When we started this work together and we went to politicians, some of them had no clue, but now because we continued the lobbing, they started to be careful in terms of the language they use and you can see that they know the issue and have researched it well. It is like moving an elephant. These things move slowly, but you shouldn't give up.
How does it look in the legal sector? Is women's presence in the justice sector equally low?
No, women have made good progress here and are well represented in the judicial sector. In the last few years, there have been courageous verdicts by women and men. We are still far away from other Arab countries, in which women are historically well presented in the judicial sector, like in Egypt. However, in this sector we have seen great changes where in former generations in the 70s, 80s it was totally different.
Finally, do you perceive Beijing as a helpful tool for the work of Women's right organizations?
It is not just helpful but also a critical tool. Because when Beijing took place the world looked different and was not so conservative. Our region is ultra-conservative, if the same countries would meet now again, it would be dangerous, I think. The Beijing platform of action was partly a result of global feminist movements, but the governments were more open to move forward. That is why many feminists now are concerned in terms of convening a fifth international meeting for women. Back then you only had to worry about the Vatican, Iran and some Latin American countries, now it is the whole world. You can't even count on the Netherlands. The whole composition, who is leading the world, has changed.
---
Contributing to this interview: Magdalena Ries and Dr. Bente Scheller.