Report
Yirgalem Fisseha is an Eritrean poet, journalist and writer who was detained as a political prisoner in the Mai-Sirwa prison for six years. On the occasion of International Women's Day, she writes about brave women who fought for independence and were imprisoned by an authoritarian regime, and tells the evocative story of two mothers that she met in Mai-Sirwa.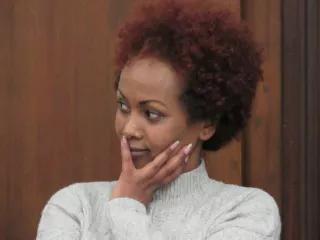 This text has been translated from Tigrinya into English by Issayas Beyene. You can find the original version in Tigrinya here.
March 8th is one of the national holidays in Eritrea, which is celebrated nationwide with diverse and large events. However, only a few can enjoy International Women's Day, while many women are still denied their rights and justice.
Grief and shame fill me when I think today, on International Women's Day, of the many women who experience endless suffering and misery in the countless prisons. Because the country for which tens of thousands of Eritrean women have paid with their lives, has become the opposite of what we had hoped and fought for.
Eritrea, in the Horn of Africa with around 5 million inhabitants, gained its independence in 1991 after a 30-year war against neighboring Ethiopia. During this struggle for independence, Eritrean women represented one third of the total number of active fighters. They played an active role alongside their counterpart men in every capacity - including combatants, leaders, doctors, teachers etc. After independence, they started to play a pivotal role in creating awareness to emancipate women, to realize equality, participation of women in education and to get access to health services.      
However, the popular struggle for independence was hijacked and an authoritarian regime was established. Constitution, justice, parliament, election, accountability, human rights etc. became alien concepts. Consequently, Eritreans, mainly women, became the primary victims of the regime.
A number of women fighters have been imprisoned for more than 18 years and no one knows their whereabouts. Women from all walks of life and demography: pregnant, underage, elders, mothers have been arrested and tortured. Thousands escape the country for fear of torture and detention, and they end up in neighboring countries refugees' camps. Others have been hijacked, raped and killed while crossing the borders to neighboring countries, migrating to northern Africa. Those who have been able to reach Europe and other safe places are living with their scars and trauma.
This account is to remember two mothers who were imprisoned with me at Mai-Sirwa from 2009 to 2015 - located eight kilometers from the capital Asmara. I am quite sure that anyone who visited the military prison of Mai-Sirwa from 2007 to 2017 knows about Belainesh Mesfin and Silas Negash.
Belainesh Mesfin
Belainesh Mesfin spent most of her prison years inside cell number 36. She was in her late 60s or early 70s. I used to see her when she was going to relief herself. She was always handcuffed. An old woman, both hands tied up, shut in a two by two meter cell! I was always wondering what she was doing and thinking. Maybe one day the cell will speak out.
Whenever I think of Belainesh, the first thing that comes to my mind is her struggles to grab, carry and damp her urine's container with her handcuffed hands. It is impossible to forget that scene.
When I think of all those prisoners who spent 24 hours handcuffed (some of them including their legs) I feel overwhelmed. One day, in order to put my foot in their shoes, I made a rope and tied my two hands together. I tried everything that the prisoners do in their cells. I couldn't even bear it for an hour. The only way to relieve my emotion was nothing but tears.
Silas Negash
Silas Negash was a mother of four with one infant. She was arrested alongside her husband (Tekie) and her brother (Kidane). I got a chance to know her when both of us were in the only psychiatric hospital in Eritrea called Kidisti Mariam. She was one of the prisoners of Mai-Sirwa who frequently visited the hospital. Whenever I saw or met her, I couldn't help thinking about her children - though I don't know them. But I was always cautious not to mention them in our conversations. However, Silas was more worried about the whereabouts of her brother who was, shortly after his arrest, taken from his cell. In her dark cell she used to repeat her pain "hmmm… this brother of mine …"
One day Silas and I were sitting at the hospital guarded by soldiers. I asked her about her health and life in the cell. She did not reply. Her attention was occupied by those prisoners and guards who came across from other prisons.
"Silas" I called her loudly. "I asked you: How are you doing?"
"Ohh sorry, I haven't heard you. I was looking at the prisoners. I don't know the whereabouts of my brother." said Silas. Her eyes were filled with tears.
We met several times and every topic was painful and agonizing for her. She was wounded internally and externally.
After two years of my release from prison, in 2017, I went to Adi Abeyto Prison. Adi Abeyto Prison is an infamous military prison located between Asmara and Mai-Sirwa where food for Mai-Sirwa prisoners is delivered. All visitors were lined up. I started to talk with someone who was next to me. While we talked about our neighborhoods, I remembered Silas' family as they were from the same neighborhood.
"I know them," she replied.
"What about the infant, who was breast-fed while his mother was arrested? How is he?" I asked her.
"Have you seen me talking to the two kids? He is one of them. He brought food for his parents." She replied and pointed to the kid.
"The one who was breast-fed while his parents were arrested came to deliver food?" I couldn't find the right words which express the feeling I felt back then.
After ten years of arbitrary detention and torture, in May 2017, Belainesh Mesfin, Silas Negash and her husband, and others were discharged from the cells of Mai-Sirwa - without due process. However, Silas' agonizing worry "this brother of mine ..." has not yet been answered, as her brother's whereabouts remains unknown.