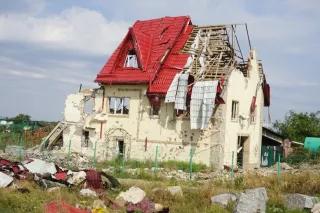 Translated by Dafna Rachok
In times of war, when only the voice of arms is heard, the voice of the unarmed is lost; however it is essential to listen to the latter because sooner or later the arms will go silent and it will be necessary to start learning to live in peace.
This article is based on research conducted in 2015 about women's experience of armed conflict in the East of Ukraine. It describes how women live in war situations on both sides of the border, including women who live in towns and villages and neighboring territories affected by military actions. In their stories they describe how they survived the worst days of the war, reflect on the conflict and its origins, speak about readiness for peace and understanding the other side and voice their hopes for future.
Why is it women's voice that needs to be heard?
War is always a manifestation of force and power and a celebration of accompanying features like strength, courage and heroism. Since the beginning of the war, an emphasis on the role of «the protecting (male) hero» can easily be spotted, and in this discourse women are granted the role of «protectors of the rear», while the complexity of their work is downplayed. Women are pushed out of the public and into the private sphere which has long since ceased to be the place of homey home. Women's needs and threats are silenced in a situation like this. This division of roles is further projected onto the battlefront — women who volunteer to go there carry out service jobs and there are very few military professions available to women.
At the same time a new type of stigmatization of women emerges, phrases that are used to stigmatize women highlight women's lack of will and render them passive. From this point of view a woman can't have the will or intelligence of her own and can only mirror the position of her man.
Between peace and war
For many women, a quiet and peaceful life is something from the past- Buying or refurbishing a flat, equipping one's home with necessary amenities — activities like these faded into insignificance. People in the East seize the day and try to find joy in each passing day.
According to women's assessments of the pre-war situation, it is possible to single out two groups. Women from the first group pointed out that there had been plenty of problems before the war as well — there had not been enough jobs, the wages had been too low, ecology had been bad and there had been illegal construction works all over. This group often mentioned bad cooperation between the people in power and the rest of the population as the root of many problems.
The other group of women assessed the pre-war situation in their city quite positively. Though these women also mentioned problems they had faced, they generally depicted the pre-war situation in a positive manner, talking mostly about the stability they had enjoyed.
Apparently, women from the second group come from places that have greatly suffered in this war. These are the people whose situation (including their financial situation) has heavily changed to the worse. Though their lives «before the conflict» were also marked by hardships and poverty, they are still seen as a vivid and more cheerful period because the respondents face current economic hardships. However, aside from economic losses, these women also often mentioned a general decrease in life standards and a myriad of other problems that the conflict had engendered.
Food, utilities, clothes for children and children's extracurricular activities are the main items in a household budget now. Not having an income of her own might be a problem for a woman whose husband was conscripted to the military and/or lost his job, was rendered disabled or even killed in the war. In a partnership women are predominantly occupied with household tasks and childrearing, which limits possible career choices. Usually they prefer part-time work, work as civil servants with possibility for sick leave, but these kinds of employment are rewarded with a very little pay. The pay gap, a lack of incorporation of women into the public sphere and a low level of economic activity among women contribute to making them especially vulnerable in times of war. 
Fears, powerlessness and escape routes
It is interesting enough that when answering the question «where would you look for help and whom would you ask for help in case of danger», women mention their friends and relatives, but they rarely mention attempts to receive the status of internally displaced person or any kind of governmental assistance in leaving the war zone; however, those who do,  mention it as something negative.
Talking about their fears, women from the regions that border the war zone mentioned first and foremost increases in crime and fear of being robbed and left without any means of subsistence; another fear was that the conflict would extend to their region as well. People from cities within the conflict zone feared that they would be left without money and food and were afraid to lose their homes or become disabled.
"I'm afraid to become a cripple, I am young and I won't live without arms or legs. Not in our country, no one needs us even when we are healthy."(Donetsk)
One of the main feelings these women have is one of powerlessness and helplessness. Though, not everybody claims that they couldn't or cannot change anything. For instance, women from volunteer projects say that they try their best to influence the situation; and those who do not take part in such projects often say that the conflict unfolded without their participation and that they are powerless to end it. People often referred to political leaders as more informed and as having more authority.
The interviews seem to suggest, that the civilian population has long felt powerless. When describing how the current situation in Ukraine approached and developed, women used phrases like: «This situation came to us and knocked on our door, we became its hostages».
In phrases like this one, people refer to a depressing image of unstoppable calamity that either slowly approaches or suddenly happens. The calamity's facelessness is especially prominent in the responses; women rarely mention the government, soldiers, Russia, separatists and armed insurgents in a straightforward manner. They instead talk about «something», about «this», about the «situation» and they talk about it like it is an all-encompassing and irrevocable abstract evil they cannot counter, only adjust and accept the situation.
"[...] We tried not to leave the cellar without necessity; even now I can't go far away from the house. It feels anxious, I can go to a shop or to work, it's maximum. Though they shelled every day, we managed to learn when there would be a break for a couple of hours and we tried to stock water and to cook food during this time." (Slavyansk)
Main anxieties are related to children and their safety, to creating a situation that will distract from the terrible reality. Women often play the role of an emotional buffer, they try to be supportive not only for children but also for other relatives.
As soon as they start to shell from our side, I call my son who is at school and carefully, in order not to frighten him, ask him how he is and say that I love him. When he is not answering, I grow cold and run to school to take him away (Mariupol).
One of the subjects that are avoided in the cities where soldiers are present is the topic of sexual violence. In the media it is possible to find a few stories about it, however that unfortunately does not mean, that cases of sexual violence are rare. We have often heard stories about the way soldiers behave and things that happen to women in captivity, stories about why it is dangerous for women to go outside in the dark; still nobody from the people who told us these stories would testify in court; moreover, the victims of sexual violence usually do not contact the police. On Ukrainian-controlled territory this is considered undesirable information which taints the «hero» image of soldiers, whereas on the territory of Donetsk People's Republic the courts haven't been working for quite a long time. Sexual violence in the military conflict is often silenced and perceived as something obvious and normalized – it is thought that a woman just performs the function of sexual service to a sex starved «warrior».
Any role that is granted to women by a patriarchal society makes them vulnerable, especially in times of increased aggression. Being a «Barbie» means being sexually vulnerable and being a «homemaker» means being economically vulnerable and facing difficulties when moving out with children.
Dialogue and peace
From the interview material I got the impression that people hadn't fully understood the reasons of the conflict and couldn't name the demands of its conflicting sides. People noted that last spring events had been partially provoked, partially constructed and staged. Still, regarding the possibility of a peaceful dialogue and cooperation, it is possible to notice people's willingness to look for a compromise.
"I think it could have been possible to avoid the conflict. […] we should have aimed at helping each other despite different languages, mentalities; we are still close to each other. It seemed that we lived in a civilized world and nobody could have thought that arms would be used. We hoped for a dialogue until the last moment." (Slavyansk)
It is interesting to observe the answers regarding one's readiness to start a dialogue with the opponents — respondents from the cities that are quite far from the war zone said that they were not ready for a compromise, they said that too many sacrifices had already been made and that they had a desire to see it through. Similarly, those against the compromise were people who actively support one or the other side. But those who are not politically active indeed said that the reasons for the conflict had been far-fetched and that both sides had to settle for a dialogue and cooperation; these people are convinced that it is possible to avoid controversial topics and to maintain a pluralism of opinions.
Many hope that different programs (initiated either by the state or international organizations) will facilitate cooperation; these people are also ready to join forces with such programs in their region. I do think that we know too little about each other. There exists a generalized entity of «Donbass» with vague frontiers and negative connotations. But maybe it is not too late to try to know each other better, to listen to each other and to start a dialogue.