Interview
For centuries, resources have been extracted from the African continent without adequate payment or compensation. With colonialism, Khoikhoi and San, the first inhabitants of Southern Africa, lost their land and many lost their lives. During decades of Apartheid they were racially discriminated and still have to fight for political and economic inclusion in the post-Apartheid era. We spoke to the Khoikhoi lawyer Lesle Jansen about her fight for the community and for the legal acknowledgement of the cultural heritage of Indigenous people.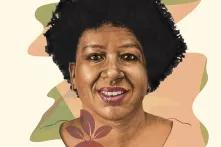 The interview was conducted by Imeh Ituen, research assistant at the Chair of Global Climate Policy at the University of Hamburg and part of Black Earth, a BIPoC environmental and climate justice collective in Berlin.
You are an environmental lawyer fighting for the protections of Indigenous peoples' rights. What motivated you to pursue a career in law?
When I realized that there was a limit to what we were able to achieve with advocacy. So, I studied law in South Africa, but lawyers in South Africa are not trained around Indigenous peoples' rights. Even the top constitutional experts at my university told me that the rights granted to Indigenous peoples, specifically in international law, don't apply to my community - the Khoikhoi, who are being labelled as Coloured. It didn't quite sit right with me, but they were the experts and I was the student… So, they should know, right?
After I completed the undergraduate degree, I thought about quitting law altogether. My father was managing a prison at the time. So, I also started working with inmates for an NGO. Based on a programme my father had developed to empower inmates, I designed a self-development process, which focused on reconnecting with our Indigenous identity. It was something I was struggling with myself, at the time. I started with five participants, but soon it became 300 inmates. I enjoyed working with and advocating for inmates, but it also became very clear to me that the system was deeply flawed. Out of 18 districts my community, the Khoikhoi, make up the majority of the prison population. This showed me the kind of challenges my community faces.
Myself I was in search of my own identity. At that time, apartheid had just ended. My family was heavily involved in the anti-apartheid struggle. We had high expectations of our ANC [1] government, but our community was told that we are not really African. Apartheid had a system of classification and many of the Indigenous people were forcibly labelled as "coloured". It was never really a choice. Even though in the Cape Flats, where I am from, the assimilation was very strong, many people didn't accept the coloured identity. It was a big collective blow for our community to hear that we are not considered to be part of this African identity we always thought we belonged to. If we are not part of you, then who are we? Questions like this culminated in a resurgence of an Indigenous identity, which, in part, birthed the rooibos case as it affects the Khoikhoi community.
At the time, my father was going to the United Nations Permanent Forum on Indigenous Issues (UNPFII). He heard about a university in Arizona in the United States, which offers a degree in Indigenous peoples' rights and Indigenous peoples' international law. I wrote to them about my predicament and they replied that they can teach me. So, I packed up my life and moved to Arizona with my one-year-old son. After my return, I worked on the San communities' land rights in Namibia for two years. From there, I joined Natural Justice, an organisation focused on legal empowerment at the intersection of human rights and environmental law. They offered me a scholarship to do a second master's degree in Rome on the rule of law, so we moved again. Obviously, these weren't easy choices, but I knew I could support my community that way.
Would you describe yourself as an activist?
Before I became a lawyer, I was actually an Indigenous peoples' rights activist. Being from an Indigenous community that was so severely affected by misappropriation put me in the front lines of this struggle for justice. I only became a lawyer because I thought it would help our struggle. So, at heart, I am an activist. I just chose the law as the tool to fight for justice.
Can you tell me a bit more about the rooibos case?
In absolute disregard of the fact that Khoikhoi and San have been using rooibos for thousands of years, the industry disputed their claim, until the South African government conducted an independent research study, which concluded that there was no evidence to dispute the communities' claim. In reality, the Khoikhoi and San Indigenous peoples of South Africa have used rooibos for thousands of years. They are the traditional knowledge holders to rooibos. The misappropriation began in the 18th century when missionaries documented their knowledge and took rooibos to Europe. The extent to which the knowledge about rooibos and other plants was documented is just scandalous. A lot of this is sacred.
Many refer to missionaries and other colonialists as great explorers, but that is a myth I don't want to put forward. That's why I refer to this process as misappropriation. In the last 200 years a whole industry has been built around rooibos, yet, the Khoikhoi and San have had no share in the benefits. The misappropriation of rooibos is connected to a larger South African history of genocide, slavery and the dispossession of land. This made the case very complex and difficult. The industry wanted to use the fact that most of the knowledge holders are landless labourers on the farms to dismiss the claim.
I have been one of the lawyers working on the rooibos case. Natural Justice stepped forth to support the 50 Khoikhoi and San communities in negotiating a traditional knowledge levy.
Where does the case stand now?
Eight years have passed since the case was brought forward. At first, the government was reluctant to accept the claim. To them, rooibos was just an agricultural commodity. However, a study commissioned by the government confirmed that the Khoikhoi and San are the traditional knowledge holders. Yet, we were still struggling to get the industry to accept that they have to share benefits with the Indigenous communities. This changed in 2014 when South Africa became one of the first countries to develop laws in compliance with the Nagoya Protocol on Access and Benefit Sharing (ABS). Since then we have a very strong regulatory framework pertaining to the obligations of users wanting to commercialise and export resources. At the same time, the EU also developed its own ABS guidelines, which required sourcing ethically produced raw.
So, the doors started to close in for the rooibos industry and forced them to accept that they have to come to the negotiation table. The negotiations between the National Khoisan Council and the rooibos industry were a profound experience. They represented the two worlds coming together. To hear the industry admit that the Khoikhoi and San were, in fact, the first knowledge holders was very powerful.
Has an agreement been reached?
Yes, the rooibos processors will pay 1.5 percent of the purchasing costs for the raw material. A communiqué, which articulates how the 50 communities represented by the National Khoisan council will share the benefits has been published recently. The document also describes what the communities expect from external actors when it comes to the use of their knowledge on rooibos.
In this journey of supporting their recognition as knowledge holders, I discovered how much plants can offer some sort of social justice.
How did this positive outcome impact the communities?
I can't speak for the communities, I can just say what I've heard from them. Throughout the whole process they have said that for them it is not about money, but restitution and dignity. The communities who now have the legal mandate to steward the resource also went through a process of reconnecting back with their Indigenous identity. This was beautiful to observe. You have to remember, at the time most of Africa came out of this colonial era, South Africa dived another 50 years deeper into a colonial system. It was very hard. For us Indigenous peoples, in particular, it has meant disconnection from our culture, our spirituality… our beingness. The legacy of apartheid still remains today. The negative impacts are compounded by the fact that a lot of our history has not been dealt with.
There have been so many onslaughts against us that we've been disconnected from our rich Indigenous identity. To this day we are not meaningfully included in the conceptualisation of the new South Africa. Even in the context of post-apartheid South Africa Indigenous identity is still limited. This painful part of our history has left its marks. We have not lost the connection with our identity, but there is a lot of unlearning and learning we have to do to heal.
The society must recognize that people have been wronged. As human beings, we need to be heard, to be seen and to be valued. Those are fundamental things we all need, not just individually, but also as a community. We're all in search of that recognition. Ultimately, we have to source that recognition for ourselves, which is hard, because the violence we have experienced has disconnected us from ourselves. African communities understood that life was all about the internal experience.
There are reports of violence against people fighting at the intersection of social and environmental justice in South Africa. Are you confronted with this threat yourself?
As an NGO, Natural Justice stands with communities, not in front of them. We let communities lead. Of course, we still have to consider questions of security. It is always on our minds. Our work requires a lot of strategic thinking. What matters, in the end, is that we achieve our goals. In terms of media coverage for example we mostly try to stay under the radar.
Indigenous communities around the globe will also bear the brunt of the climate crisis. Do you think the Khoikhoi are also more vulnerable to the impacts of climate change?
Yes, Indigenous communities are very vulnerable to the impacts of climate change. I see an urgent need to address this crisis. The problem is that people like to silo things. The focus on a certain number of degrees of warming can be a distraction. The window of opportunity is limited. Of course, we have to stop the emissions, but we need to start by being honest. We no longer have time to do the same things over and over again. We have to open up the conversation and bring everyone in. My community has a lot of important knowledge about responses to the climate crisis, like agroecology. African knowledge systems have a lot to offer that will benefit our climate and our environment.
I have heard people say that Africa should lead the fight for climate justice. What are your thoughts on that?
We can't lead the fight for the protection of the climate and climate justice if we are not leading it as Africans. If we are going to lead it from who we are authentically, then we would actually be leading. But right now, we are just following. Don't get me wrong: I am not saying it is a competition, but if we are not leading as Africans, then this fight is missing our contribution.
It's been a long fight and I'm sure you have experienced a lot of setbacks, too. Do you ever get discouraged?
Every day! (laughs) It's a constant, but you just have to pick yourself up. I know the challenges. I see the pain every day. Yet, I know there's no other way but through.
What inspires you to keep going?
What inspires me most is my relationship with God and I treasure the relationship with my ancestors. The relationship between those two is very important, too. I was struggling to figure that out for a bit. Knowing that I have the support of my ancestors carries me through.
This series of interviews is called "ReGain Space - the Future is Now". What does it mean to you to regain space?
It reminds me of how proud I am of my community's activism. What it meant in South Africa to be African was very narrow and exclusive. Through their activism, my community has carved out space for themselves. They have successfully fought to have a seat at the table. Of course, not all the problems have been magically solved, but they have gained space they didn't have before and are unapologetically occupying it. I love seeing that because we need to be included and respected.
What is your message to activists, and young people in South Africa, in Africa, and beyond?
When we fight for social, environmental or climate justice, we need to spend more time asking ourselves who we need to be in the process. Who do we need to be through all of it to not mess this up? We really need to sit with that question. Often we set a goal and start with the best of intentions, but then things go wrong. Once you have come to an understanding, you have to guard this carefully. When you lose that path do this: retry and give it a go again every single day. You have to remember that failing is part of the course. It never gets perfect, but you keep on trying.
Lesle Jansen is a South African lawyer, from the Khoikhoi community, who specializes in indigenous peoples rights and Access and Benefit-sharing in the context of the Nagoya Protocol. She was one of the lawyers on the Rooibos case resulting in the first industry-wide benefit sharing agreement.
[1] The African National Congress (ANC) is the South African political party that has been the governing post-apartheid South Africa since the election of Nelson Mandela in 1994.
This interview was first published by the Heinrich-Böll-Foundation.