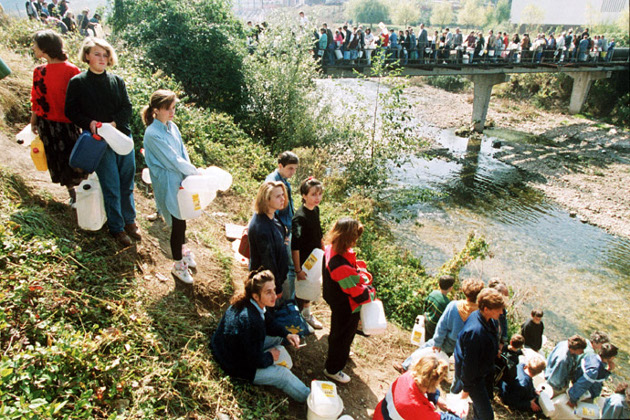 From the Book: "Women Documented - Women and Public Life in Bosnia and Herzegovina in the 20th Century".
 
This Was Not Our War
This chapter will discuss the position of women in the period 1992-1995, focusing on their role in different fields of action, such as the military, civil defence, education, medicine, art, politics, and women as war criminals and victims of rape.
Context
The period covering the end of the eighties and early nineties of the 20th century was marked by socio-economic and political turmoil, and the transition from a socialist society to a democracy that is characterised by war and the division of the former Yugoslavia into nation-states. The dissolution of Yugoslavia affected all segments of society and imposed the question of ethnic division, which had a major impact on almost all spheres of society, including the issue of gender equality, women's representation in decision-making positions and other spheres of public life. The first democratic, multi-party elections were held in Bosnia and Herzegovina in 1990 and they brought to power the three major national political parties representing the three dominant ethnic groups in Bosnia and Herzegovina (Bosniaks, Croats and Serbs) and which were to organise the political life of the country. After the proclamation of independence of Slovenia and Croatia at the end of February 1992, a referendum on the independence of Bosnia and Herzegovina was organised. On March 1, 1992 Bosnia and Herzegovina declared independence, and immediately thereafter witnessed growing tensions, which escalated into war, which officially began in April 1992. Between April 1992 and December 1995, and until the signing of the Dayton Peace Agreement, there massive human rights violations took place in the Republic of Bosnia and Herzegovina (RBiH), including war crime, crime against humanity, murder, rape and expulsion. The homes of many became the frontlines and the population in many parts of Bosnia and Herzegovina was forced to leave.
Part IV: The Nineties The War and Post-War Period in Bosnia and Herzegovina from the book "Women Documented - Women and Public Life in Bosnia and Herzegovina in the 20th Century" [Heinrich-Böll-Stiftung Bosnia Herzegovina]